Maybe you guys like me sometimes do not understand why Neon fish died even if you try to take care very well … so take a look at some small techniques on raising Neon fish do not die offline!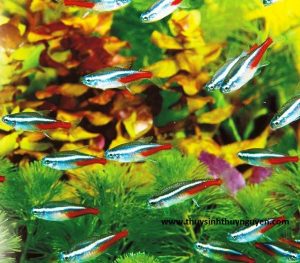 Neon fish farming techniques:
– PH Aquarium: standard 6.5- or 7 (no salty – no salt)
– Fish tank temperature: not more than 3 degree difference (change in one day)
– Do not replace aquarium water for more than 20% of aquariums, and weekly change water regularly
– Water is not depleted
– Neon fish not eat too much (broken down every time, feeding many times also die). Note: Do not leave excess fish food in the tank
– Not raising some of these fish together with Neon (Phoenix, Catfish, Hawk, Fairy, Discus, Bunting …). Best Neon fish in the same species and some lakes .
Neon fishes come in a variety of forms: black neon fish, blue neon fish, king neon fish
You can be spoiled for choice to create an aquarium with life and beauty.
Wish you have a beautiful Neon fish in the aquarium!
Tags