As you all know, Java Moss is a moss that is easy to grow and form in the aquarium. It is used by Amano masters in his works.
Java moss is usually fixed on driftwood, stone or used to lay the foundation for the lake. To create a beautiful Java moss, the first time we trim the stronger yarns. Waiting for the remaining moss to rise, the moss gradually reaches a uniform length will prune more hands to stimulate new and thick java denser and even more in the lake.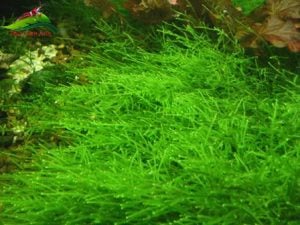 With the ability to grow well, is not strict on living conditions. Moss Java can live at temperatures of 30 degrees Celsius and vary in intensity of light whether strong or weak. Moss Java is easy to survive and grows even with a small piece, from a small java branch falling to the ground, which will cling to the particle scatter and grow strongly. You may not notice the consequences, but only after a few days of Java moss has developed that your aquarium aquarium loses the balance order that it originally placed. If you pick up the moss java, it can affect other plants and mosses in the lake.
In addition, the small branches of java mulch in the process of pruning are difficult to observe, so it is difficult to pick up all the java trimming moss. The most effective solution is to combine pruning and sucking java debris out at the same time.